VAST
"MUSIC FOR PEOPLE"
Elektra
2000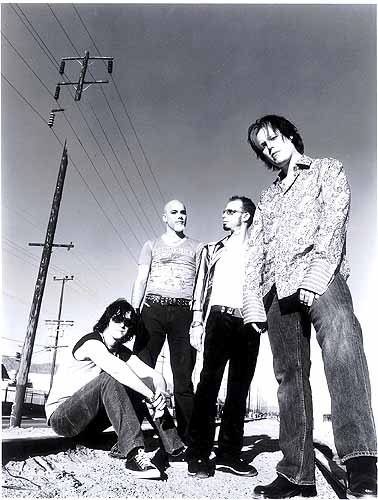 Es imposible explicar con palabras aquello que no se puede expresar. Solo sé que he pedido muchos deseos a lo largo de mi vida. Tantos que no creo que pueda acordarme de todos. Algunos se cumplieron, otros en cambio han sido una maldición. Tambien dicen que es mejor retirarse y dejar un bonito recuerdo, que insistir y convertirse en una verdadera molestia o vivir en la mas absoluta tristeza, no se pierde lo que no tuviste, no se mantiene lo que no es tuyo y no puedes aferrarte a algo que no se quiere quedar. Si eres valiente para decir un adiós seras recompensado en la vida con algo nuevo. En la historia de la música hay tantos casos de injusticia como la vida misma, el caso que me viene a la mente es el de VAST, uno
de los príncipes caídos de la música rock,
cuya discografía es un reflejo de la indiferencia que sus medios. Es triste nombrar a dia de hoy a
Jon Crosby para descubrir que es un autentico desconocido cuando debería ser una estrella de rock.
Su música es asequible, abraza muchos estilos y es un compositor talentoso a parte de uno de esos genios como cantante, pero
por otra parte, para ser exactos, Crosby ya fué una estrella.
Eso fue en 1998. Luego arrojó un palo en las ruedas bajo el nombre VAST como una especie de experiencia mística. Mas de
quince años han pasado desde que el golpe del maestro y del interés de la crítica pública se dieran a conocer.
De hecho, en retrospectiva, parece claro que su carrera no puede ir mucho más allá de su primer y segundo álbum: eran demasiado grandes, demasiado ambiciosos, demasiado geniales, demasiado aclamados por un joven de veintidós años
solamente.
Un gran éxito que sin duda no es inocente en la estructura atípica de su viaje musical a partir de
influencias de
The Cure, Nirvana, Depeche Mode, U2.
La dirección Crosby entre estas dos primeras unidades es un buen elemento de entendimiento para toda su carrera. El
desplazamiento del tiempo sugiere un hombre visiblemente orgulloso, atormentado en sus preguntas íntimas (sexualidad y religión) que entra en su cuenta en Music for People.
El talento de
Jon Crosby para escribir letras cae en el poder de la ira y la melancolía.
En este "Music For People"
es una declaración de amor con el corazón abierto a la melodía.
Está impregnado de cada nota, aún más limpio y refinado que el debut.
Musicalmente se entregan los sonidos más fuertes, en cambio las sugerencias industriales son menores. S
onidos más pulidos, las guitarras acústicas se hacen cargo, limitado sólo a una
par de temas, y los tonos son generalmente mucho más positivos.
No puede decirte que la
ira haya dado paso a la alegría.
Esto es evidente incluso en la única pieza que puede ser considerada con el debut del 98: "Free".
La melodía es pura y delicada y es la protagonista absoluta del resto del álbum: Algunas canciones son inolvidables: "I Don't Have Anything" (atentos a su letra), "Blue", "A Better Place", "We Will Meet Again" o el cierre instrumental de
tonos ambientales "Lady Of Dreams", todos los episodios que dejan su huella en el corazón de la escucha y no puede inducir una sensación de paz interior.
Aquí emerge todo el amor de Crosby a los años 80: The Cure, Depeche Mode, U2, Joy Division etc.
La elegancia formal y la intimidad de las melodías hacen de este trabajo un intento de lograr una forma de música popular como una alternativa
.
Puntuación *8/10