SPACEMEN 3
"THE PERFECT PRESCRIPTION"
Glass
1987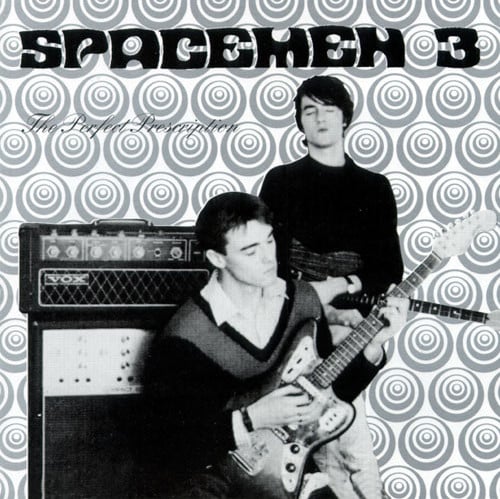 No reconocidos durante su carrera, pero
increíblemente una banda de culto hoy en día.
Un
grupo entregado por una evidencia inigualable e insuperable a una percepción que puede abrir las puertas del cielo y de infierno cuando se somete a tal elevación.
Eran la receta perfecta, llenos de canciones evanescentes acerca de las drogas y del paraíso, en un delicado acto de equilibrio de adición a la retroalimentación de arreglos ásperos, lánguidos, monótonos y minimalistas.
Canciones largas como playas tranquilas de arenas blancas, lentas, frescas que hacen y deshacen la delicia de cualquier "hisper" moderno que se apreciase a escuchar hoy. Un grupo que se permitia el lujo de intoxicar a la gente por placer y por relajación, una relajación hipnótica, y a veces casi cósmica.
He escuchado tantas veces comentarios sobre la música de los años 80 que rara vez han sido halagadores: las piezas se rellenaban de efectos de mal gusto, las guitarras eran sustituidas por sintetizadores y la batería sonaba tan hueca un huevo.
En realidad no podemos negar estos argumentos, al menos si hablamos de pop y de música comercial;
como en relación con la música alternativa o la música independiente, esta década fue testigo de corrientes nacidas que eran influenciadas por el punk y grupos de los '60.
Los Spacemen 3 fueron parte de la generación de aventureros sonoros formados en 1982 por Peter Kember y Jason Pierce , el grupo se inspiró desde el inicio en la Velvet Underground, al igual como en los Beach Boys y los The Stooges mientras permanecían en la línea limítrofe al sonido
de la ciudad de Manchester.
La combinación perfecta sin duda. El álbum es lanzado en 1987, el segundo álbum de la banda y es su mejor momento musical y creativo hasta la fecha, cada uno de los ocho títulos del disco lleva un poco más de rock, lleva un blues, oscuridad, y
psicodélia hipnótica.
Piezas lentas que emanan una violencia claustrofóbica que lleva al oyente en un torbellino vertiginoso de riffs endiablados que no hacen mas que extirpate las entrañas.
Escuchando este maravilloso disco no es un acontecimiento en sí mismo, pero sólo sé que no se escucha con la misma facilidad como un álbum de REM o un The Best de Dire Straits.
Recuerda que una vez pasado canciones como "Walkin ' With Jesus", las cosas nunca volverán a ser las mismas, los solos de guitarra y los
efectos
de los temas son historias vivas, y
las letras son
habladas de forma amenazante a voz de Kember, mientras que Pierce, al igual que con su discografía de Spiritualized, suena angelical.
Spacemen 3 parecieron estar en la encrucijada de varias corrientes psicodelicas, ya sabéis la descripción conocida por la banda,
ellos "hacian musica para tomar drogas para hacer música para tomar drogas", años de locura como en el '66 en California, Nueva York '69 o '78 en Alemania, en cambio, estuvieron especialmente bien representados en los años '80, en medio de una generación
desinhibida que alimentaba el sonido de los dinosaurios de los años 70, también grupos Garage de EE.UU. En definitiva es muy difícil describir tanta influencia, solo se puede decir que cogieron de todo lo bueno y lo manejaron para hacer algo insólito en
1987, Spacemen 3 lanzaron uno de los mejores discos de neo-psicodelia de la historia en el país que vió nacer a The Beatles. Casi 30
años después la prescripción sigue siendo perfecta y sigue siendo un clásico de culto underground.
Puntuación *10/10
SvS