THE KISSAWAY TRAIL
"BREACH"
Cooperative Music
2013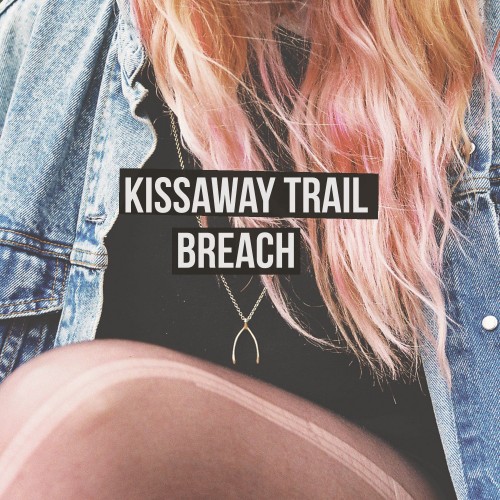 Desde la muerte y resurrección de My Bloody Valentine toda clase de bandas de todo el mundo se han puesto en frente del popular género, se han ido subiendo al carro del shoegaze durante mas de una década, y aún así nunca los han podido desbancar. My Bloody Valentine gobernaron totalmente este genero y a día de hoy continuan haciendolo. Yo lo sé, tú lo sabes, y casi todo el maldito mundo lo sabe. Lo mismo hicieron Slowdive , Ride y los Cocteau Twins para el caso. Una gran parte de las bandas de estos años han sido poco imaginativas estafando los sonidos de esas bandas sin dar un paso adelante y sin dejar huella, en términos de composición, sin embargo, realmente no molestaban tampoco. Por otra parte, existen numerosas bandas de neo/shoegaze como Degrees, Alcest, Ask For Joy o Daniel Land & The Modern Painters que si han sido mas allá sin temor, actualizando el género y en algunos casos incluso mejorandolo.Lo bueno de The Kissaway Trail es su realidad, son honestos y no estafan a My Bloody Valentine por mucho que quieran, ellos se inspiran mas en dream pop de los finales de los 80 y principios de los 90.
Tampoco diría tan lejos como para decir que The Kissaway Trail han construido un sonido particularmente innovador, pero hacen de la sencillez canciones pegadizas y algo que es más que importante. Yo les daría a The Kissaway Trail una muy buena oportunidad de conseguir un hueco en la siguiente película de Sofia Coppola dentro de la banda sonora con canciones como "beauty still rebels" o "norrebro". Breach es un gran trabajo, suena un tanto turbio y etéreo, una combinación importante pero difícil de afectos por el género en cuestión. Además, The Kissaway Trail son de Dinamarca, que tiene mucho sentido, ya que los países nórdicos nunca me ha defraudado en el departamento de música Shoegaze.Sin reverberaciones pesadas, ni psicodelias excesivas suenan las voces de los inicios de Flaming Lips con delicadas guitarras acústicas flotando fuera de la oscuridad, si realmente sientes eso es que entonces es probablemente el disco sea para ti. Pero Breach es sin duda uno de esos discos que trabaja una rama particular de un género en particular con habilidad, pero con mucho ingenio. Se trata de un gran éxito en la evocación de sonidos, imágenes y sentimientos de la década de los '90. Lo que no puedo evitar es preguntarme es: ¿que sentirá alguien cuando nunca antes a escuchado este tipo de genero y de bandas? Breach parece tan lleno de los '90 que la nostalgia que desprende me es difícil a veces de escuchar. Déjate llevar de la mano a viajes de ida y vuelta a viejos tiempos.
Since the death and resurrection of My Bloody Valentine all kinds of bands from around the world have put in front of the popular genre , have been jumping on the bandwagon of shoegaze for over a decade , and still have never been able to unseat . My Bloody Valentine completely ruled this genre today and continue doing it. I know , you know , and almost the whole damn world knows it. So did Slowdive , Ride and the Cocteau Twins for the case. A lot of bands these years have been scamming unimaginative sounds of those bands without taking a step forward and without a trace , in terms of composition , however, does not bother either. Moreover, there are numerous bands of neo / shoegaze as Degrees , Alcest , Ask For Joy and Daniel Land & The Modern Painters that if there have been more without fear , updating the genre and in some cases even improving it .The beauty of The Kissaway Trail is your reality , are honest and not cheat My Bloody Valentine how much they want , they will inspire more dream pop in the late '80s and early '90s .Nor would say as far as to say that The Kissaway Trail have built a sound particularly innovative , but simply make the songs catchy and something that is more than important. I would give The Kissaway Trail a very good chance of getting a spot in the next Sofia Coppola film within the soundtrack with songs like "beauty still rebels " or " Nørrebro " . Breach is a great job, sounds a bit murky, ethereal important but difficult combination of affection for the genre in question. In addition , The Kissaway Trail are from Denmark, which makes sense , since the Nordic countries has never disappointed in the music department Shoegaze .No reverb heavy or excessive psychedelia sound the voices of early Flaming Lips with delicate acoustic guitars floating out of the darkness , if you really feel it is that then it's probably the disc is for you. But Breach is definitely one of those albums that works a particular branch of a particular genre with skill, but with much ingenuity. This is a great success in evoking sounds, images and feelings of the early '90s . What I can not avoid is asking is: you feel someone when never before heard this kind of genre and bands? Breach seems so full of 90s nostalgia that appears sometimes it's hard to hear . Get carried away by the hand back and forth trips to old times.
Puntuación *8/10
SvS